Created on Friday, 17 July 2015 10:28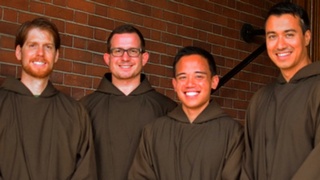 UPDATED with photos 07/21/2015
       Our brothers David Domanski, OFM Cap., Alex Hostoffer, OFM Cap., Andrew Corriente, OFM Cap., and André Repucci, OFM Cap. (above) professed their first vows of poverty, chastity and obedience as Capuchin friars on Saturday morning, July 18, at Mt. Alvernia Chapel in Milvale (Pgh), PA.
       Provincial Minister David Nestler, OFM Cap., received their vows.
       See photos of the event below.