Created on Saturday, 04 June 2016 13:17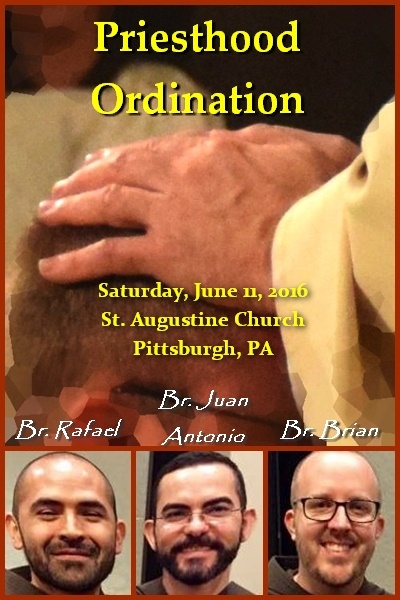 Our friars Rafael Anguiano, OFM Cap., Juan Antonio Cruz, OFM Cap. and Brian Stacy, OFM Cap., were ordained to the priesthood on Saturday, June 11, 2016 at St. Augustine Church (Our Lady of the Angels Parish) in Pittsburgh, PA. Having served their Diaconate Internships at our friaries in Philadelphia, PA, Cumberland, MD, and Washington, DC, the brothers will soon be reassigned.
       Conferring the Sacrament of Orders was our own brother Bishop Donald Lippert, OFM Cap., who ministers in the Diocese of Mendi, Papua New Guinea.
       We are proud to be your brothers, and we are grateful for these men who join in the ministry of unity and mercy in the Body of Christ.