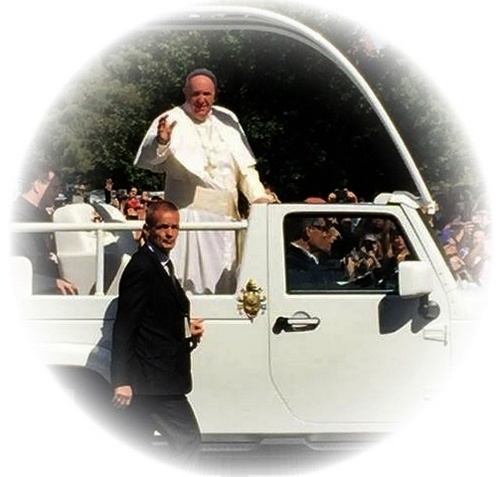 by Kyra Malamood
       Looking back on last week, I still cannot express my thoughts and feelings adequately. Words simply fall short. Not only did I get the chance to join hoards of people at the Papal Parade on Wednesday, but by complete grace, I also found myself standing among the crowd at the Capitol on Thursday morning listening to his inspiring, wise, and truly life-giving address to Congress.
       All I can say is how lucky I am. God is Good! (All the time). After sharing the tales of the two days of papal festivities, my dad simply said to me, "I wish I had you on video, so you could hear the excitement and joy the way I just heard it from you."
       My presence there made the Pope's visit real for my family and friends who could not be there, and to think of all the people our Holy Father reached through that very same chain of thought and connection is so very powerful. Joyful, surreal, beautiful, holy, special, life-giving...the list of words goes on, none of which seem to capture the sentiment of those two days.