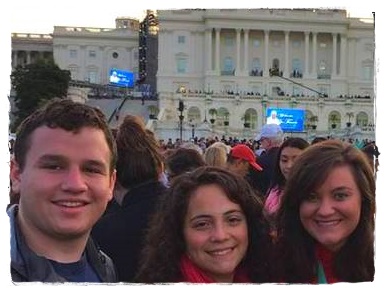 Cap Corps is fundamentally based on four pillars: Franciscan spirituality, service, community living and simplicity. The two most memorable experiences that I have had so far remind me of our year-long commitment to God, each other, and this way of living.
              It would be easy to tell you about every moment of the day that we spent preparing for, experiencing, and reflecting on Pope Francis' visit to D.C. Out of respect for your time, I will stick with describing my most memorable feeling: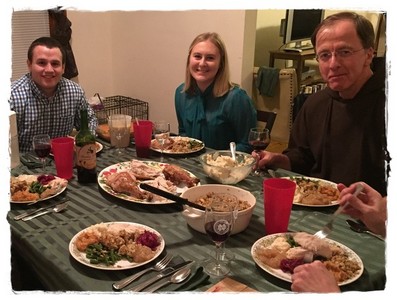 It was the powerful and joyful energy that radiated from tens of thousands of fanatic Francis followers jam packed on the National Mall - hearing the chants in Spanish, starting the wave for the crowd, and talking and praying with strangers about the love of one man. Jim Carrey (yes, the dude from Ace Ventura) said it best, "The effect that you have on other people is the most valuable currency there is."
       The Pope's presence affirmed that statement for me. The kinship I felt that day made me think back to Fr. Paul Dressler teaching us about the life of Saint Francis. We learned that Francis was transformed by an encounter of love with the leper, a fellow human being who most people believed was a less valuable person. In our experience with Pope Francis, I was reminded that our spirituality and service are drawn from encounters with others, guided by a higher power of love that is God.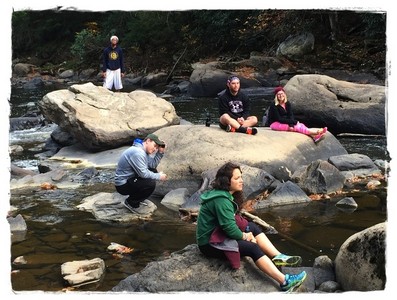 The experience of our fall retreat showed me the wonder of living simply and in community. A weekend of praying, reflecting, sharing our triumphs and struggles, and most importantly detaching from "reality" culminated with a dinner on our last night at Alverno. Fr. Frank played music, Gabby and her mom prepared dinner while her dad opened wine, some of us played cards, some of us talked movies, and some of us caught up with friars we hadn't seen in a while.
       One thing we all did was take a step back and recognize how blessed we were to be in the presence of a loving Cap Corps family. As Br. Al said, "I really think this is what Heaven will be like."
Sam Braun
Cap Corps, Cleveland, OH
---
Sam's reflections are taken from the January 2015 edition
of Cap Corp's Capture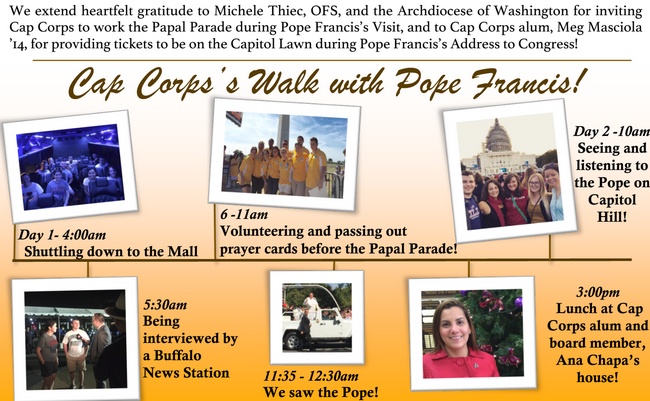 Also see "Reflections" on the visit by Kyra Malamood
along with photos of the adventure there.