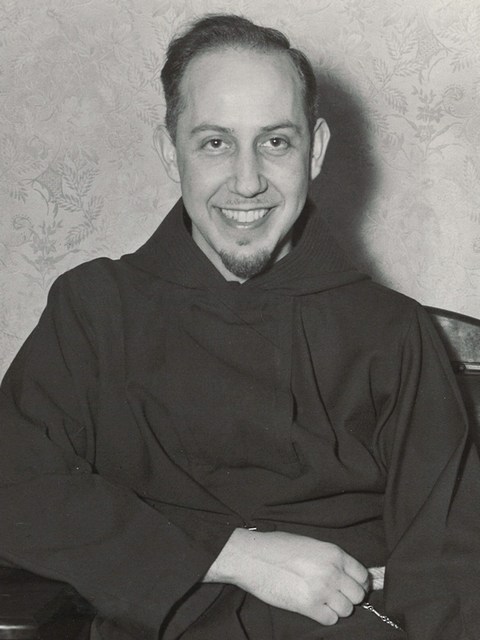 When someone lives to 98, they leave many a 'footprint' behind. Thanks to Jill Turok at the Christian Mothers' offices and Andria DeVit at the Provincial Office, we've been given the opportunity to share some of those footprints.
In 1994, as Fr. Bert marked 50 years of service to the Christian Mothers, he wrote:
What keeps me going? First of all, one of our stickers that I have on the dashboard of the car: All for the greater honor and glorv of God. I have driven a lot of miles in fifty years. So I thank my present Guardian Angel and those angels that I have worn out (Then, too, I have driven many golf balls. That recreation has helped to keep me sane, sober, single and serene).
How much I owe to Christ the Director of all directors and His Mother Mary the Mother of all Christian Mothers! My Capuchin Superiors have given me so much encouragement. My present endurable staff: Stella, Jane, Jill and Mary - they do all the office work and I get the credit . . .
Many times I have asked: "Who has it better than I do?" One of my great friends, Father AI, says: "Nobody has it better than Father Bertin Roll." He's right.
In 2004, when he reached the 60-year marker, he addressed the confraternity again. He had little hint of his reassignment as 'emeritus' by the year's end. Still, he wondered what kept him ticking:
For sixty years I've been assigned by my superiors as National Director of the Christian Mothers. Where did all those years go as we tried to help married women to be better wives and mothers to train their children to be good catholics?
All my shots were aimed at drawing myself and the Christian Mothers closer to Christ and to His and our Blessed Mother Mary. A panorama of those sixty years would picture me working with my wonderful office force, Stella, Janie, Jill and Mary surrounded by maps, phones, directories, thousands of medals, Mother Love prayer books, and millions of leaflets and stickers.
There would be glimpses of churches and confessionals plus rectories, priests, christian mothers,restaurants and rest stops along with golf courses, bars (not too many), cafes with tasty soup and service stations. I've worn out some automobiles and many more Guardian Angels. God has been so good to me. Who has it better than I do? Nobody! Thanks! Thanks! Thanks!
See the letters mentioned above and other moments from the Chrisitan Mothers' Bulletin in this PDF copy.
Meanwhile, here is a trip down Fr. Bert's 98-year memory lane (click any photo to enlarge the gallery).