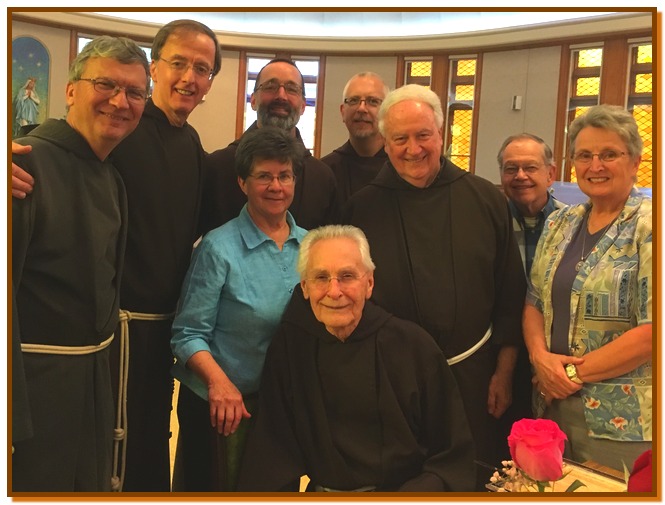 Our brother Gervase Degenhardt, OFM Cap., completed 16 years of service as chaplain to our Franciscan sisters at Mt. Alvernia in Millvale, PA. His last day of service was September 14, 2017. The Sisters, now part of the Sisters of St. Francis of the Neumann Communities, had a festive Mass toast at on September 19. Tom
    Provincial Tom Betz (left in the photo) presided and preached at the celebration. A number of friars were present to marked the occasion and to thank Fr. Gervase for his dedicated work and for his show of love for our the sisters, "neighbors" to our Provincial motherhouse in Pittsburgh, PA, who have been so precious to the men of our Province.
     In the photo, Gervase is seated, while, left to right, are the Provincial, and Mike Joyce, OFM Cap. (Provincial Vicar). They're standing alongside Provincial Council members Jim Mungovan, OFM Cap., and Bob Marva, OFM Cap. Our brother Scott Seethaler, OFM Cap., was also present for the occasion, and second from right in the photo is our confrere Jim Antoine, OFM Cap., a Capuchin from the St. Joseph Province serving in Montana.