Capuchins team with the Missionaries of Charity
    The friars of "Capuchin College" (St. Francis Friary), home of our formation program for friars in initial and professional formation, have taken on a ministry in conjunction with the Missionaries of Charity. A few years ago, it was suggested by one of the student friars to partner with the Missionaries in their Sunday morning meal program. A phone call was made to them, and the ministry began.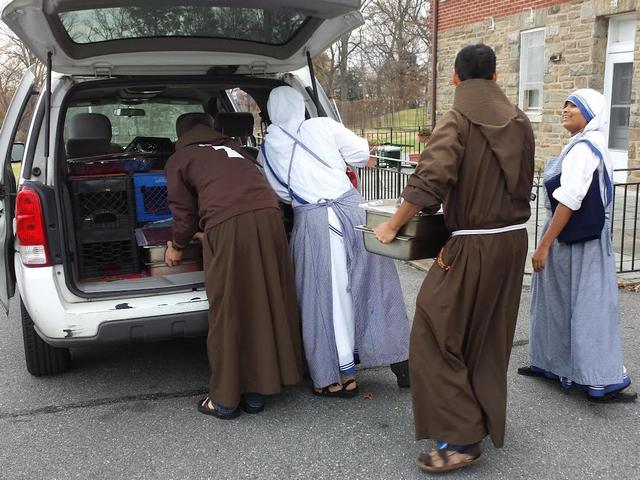 The ministry takes place on Sunday morning. As Fr. Bill Gillum, OFM Cap., a staff member in the fraternity, tells us, "We leave Capuchin College at 9:00 AM and travel to Gift of Peace Convent, about three miles away. Upon our arrival we load the meal prepared by the sisters into our van.  The meal usually consists of baked chicken or chili, rice, salad, coffee or hot chocolate and perhaps some kind of pastry for dessert.  Two or three friars, including both student friars or those not in formation, along with two or three of the sisters participate in this ministry. The sisters travel in their truck, we in our van."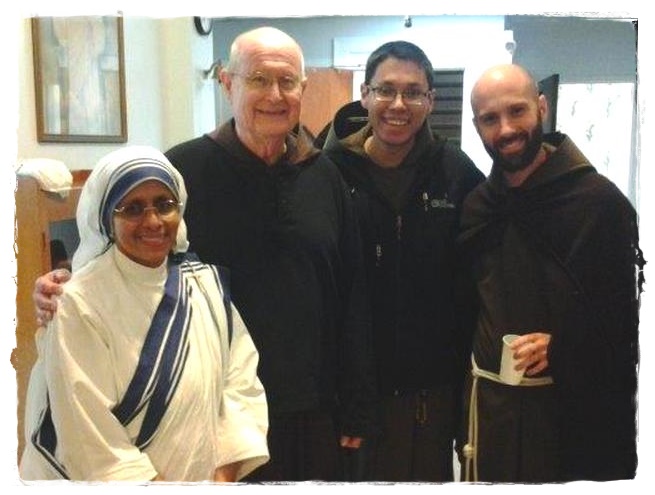 The group first drives to Home Depot a few miles away and sets up their folding table in the parking lot behind the store. There, they may encounter anywhere from thirty to fifty men, mostly Latinos with origins in Central America. They gather there hoping to find some employment (like in painting, lawn care or whatever might be offered by those who drive by). They range in age from their teens to those who may be elderly. After setting up their meal table, they gather the men together and pray with them. Either one of the sisters or one of the friars prays, proclaims the Gospel for the day, and then preaches in Spanish for about five minutes. After prayer, the meal is served.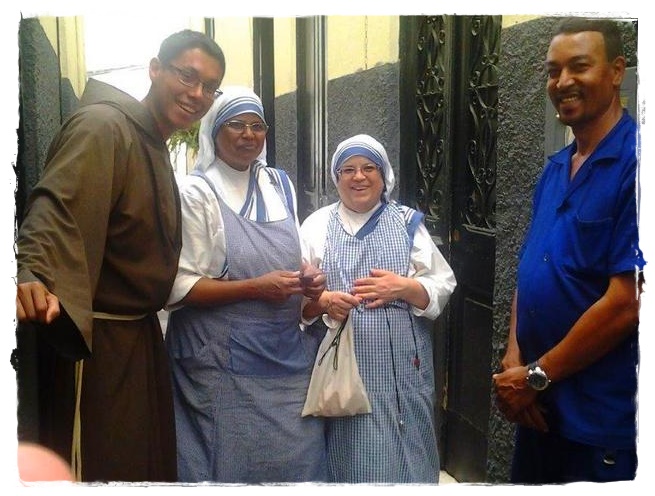 The men themselves are hungry for prayer, compassion, friendship and, of course, the meal. At times we may distribute socks, sweat shirts, or coats -- whatever we might have available. Rain, snow or sunshine, these men look forward to our coming on Sunday mornings. If there is food leftover, they travel down DC's North Capitol Street and set up their table on the sidewalk along the very busy, noisy roadway. There, they encounter those who find themselves homeless. Most of these people leave their shelters for the day, perhaps to go to church or simply to gather in a nearby park for companionship. The sisters walk to this nearby park and invite the people to come and eat. Once again, after a brief prayer, a meal is served.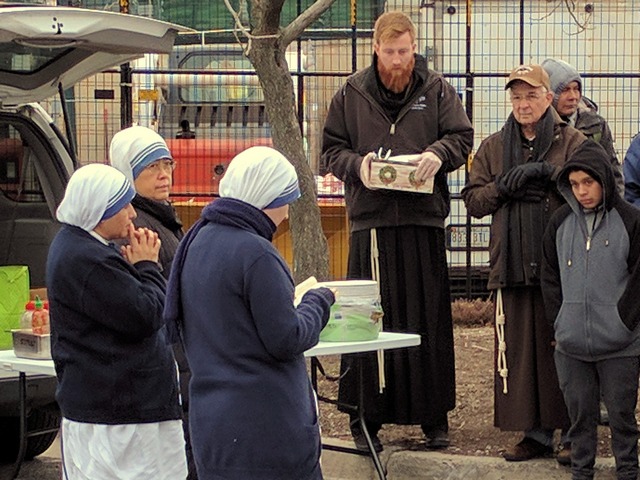 When all is said and done, the friars and sisters gather up the empty food containers, fold up the table and return home.

    Our brother Bill shares that "the ministry is simple yet powerful. At Home Depot and on the sidewalk of North Capitol St., we encounter the poor hungering for the presence of Jesus. Hopefully, we offer this presence not just with food but with love and sensitivity to the needs of those who so often struggle and are forgotten."

    Thanks to the brothers who sacrifice their time and energies for the men they serve and for the sisters who are encouraged by your presence. Remember them and those they serve in your prayers. If you'd like to help their service in some way, let them know on their website.