Michael Herlihey

        Michael, 23, is from suburban Philadelphia, PA. His family, which includes a sister and two brothers, means a lot to him. He competitively played soccer and swam in high school while playing pick-up games of everything else (Go Eagles). After taking a year off to work, Mike attended Mount St. Mary's University, graduating in Philosophy. It was there that Mike realized how much he appreciated building and enjoying community, and it was there he found his faith. Meeting the Capuchin friars in his freshman year of college, in that same year, he discerned that he was called to discern his vocation among the friars after graduation. Four years later, having served three years as a resident assistant, he began his journey in Postulancy. He also spent a summer as a volunteer at Saint John Hospice in Philly helping the homeless. "Saint Francis was willing to be unattached from the secular world in order to follow Christ. I love how optimistic and joyful he was despite not having the things that the world says you need to be happy."

---
Luke Hlavin

       Raised in a strong Christian family, Luke, 26, grew up in Northern Virginia as the eldest of three brothers.  In 2012, he received a BA in theology and philosophy from Franciscan University of Steubenville. Since graduation, his path from college has been "eclectic." With a brief stint working with the USCCB (Conference of US Catholic Bishops), he moved into full-time campus ministry at the Catholic University of America in Washington, DC, where he first encountered Capuchin friars.  After two years of working at CUA, Luke left to travel Europe, making a pilgrimage along the Camino de Santiago and to Taize, France, and embarked on a further study of Spanish.  Returning from Europe, Luke took a job with the Association of Catholic Colleges and Universities.  Motivated by the example of Pope Francis, he departed to volunteer with the Maryknoll Fathers as a teacher for three months in Cochabamba, Bolivia.  The following spring, he applied to the Capuchin community, desiring to continue his service to the poor through recognition of his own littleness and poverty. "The Lord has worked hard to get me into postulancy, and I am truly a work in progress.  But it is with great trust that I proceed, knowing that He will make each step clear as it comes, confident in His ever-guiding hand. I remain a pilgrim on the path of life with little clarity and even less certainty. And yet, the Lord is primary in all of it. It is He that I love, to Him that I owe all that I am, and in His name that I desire to love and serve those in need. This walk is one of great joy, a joy I have seen on the faces and in the hearts of many Capuchins. By God's grace I seek to share in that joy, in service to Christ and the Church, that I may radiate His light in all that I do."

---
Collin Kourtz

Collin, 25,is from Fairfax, Virginia. He is a graduate of Loyola University in Baltimore, MD, with a degree in mechanical engineering. Upon graduation, he traveled a bit before settling down in New Hampshire where he found himself working for an engineering firm.  While there, he sensed a call to Religious life, so he returned to Baltimore and began a year of service with Mercy Volunteer Corps, sponsored by the Sisters of Mercy, while discerning his vocation. "I feel called by the example of Saint Francis with the leper, when he left his horse to kiss the leper. This story teaches perfect charity and tells me how I should act toward the poor and when I come to the Lord."
---
Luis Munguia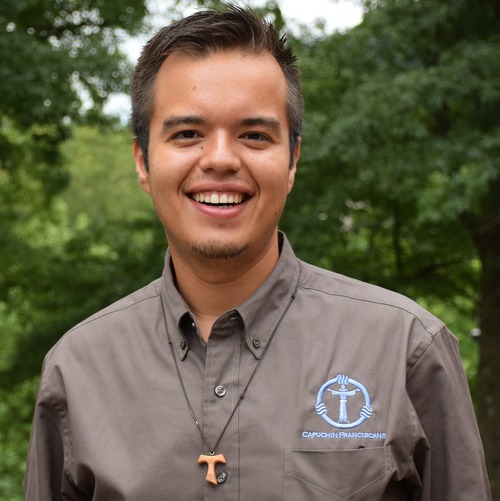 Luis, 25, is from Dallas, Texas. From aspiring tennis professional to being a pre-med student at the University of North Texas, and eventually becoming a Kairos youth camp leader, God has patiently led Luis through countless U-turns filled with sacrificial flourishing towards my heart's content. A beloved son of Mexican immigrants and fourth in a family of 5,  Luis witnessed and experienced poverty firsthand. Little did he know that these experiences would mold his heart in a way that would find expression through the desire to work among the poor and destitute. This desire coalesced with the grace of the Holy Spirit and led him to consider a special way of love through the gift of Capuchin Franciscan Religious life. Luis is a 2016 graduate of John Carroll University with a major in philosophy. "The life of Capuchin friars appeals to me because I witnessed the living Capuchin charism through the friars at Borromeo. I also discovered that it is a grace to belong to a fraternity and that this is important in my walk toward holiness."

---
Paul Kahn

Paul, 27, was born and raised in western New York. He is a graduate of De Sales University near Allentown, PA. He has worked as a chastity missionary with Generation Life, as a campus minister and as a volunteer at the Trappist Monastery in Geneseo, NY. "God is calling out to the Church today for those who are listening to follow the example of Saint Francis. As Pope Francis often says,' the one who helps the sick and needy touches the flesh of Christ, alive and present in our midst'. The example of Saint Francis and the leper is for me the example of perfect charity."

---
Luis Vallhonrat
Luis, 37, was born in Queens, NY, and was baptized in Spain. He and his family moved to Charlotte, NC, when he was 6 years old. Luis first became interested in Religious/Monastic life in 1996 when he saw the movie "Brother Sun, Sister Moon" and, subsequently, read a biography about the life of St Francis of Assisi. Throughout the years since then he has been growing in the knowledge of his faith. After some time with the Benedictine Order in 2004, he felt his call to the Capuchin Franciscan friars and began his life with them in July, 2016. Luis is a Postulant with the Capuchin Province of the Stigmata and joins our men above in Philadephia for his candidacy year.