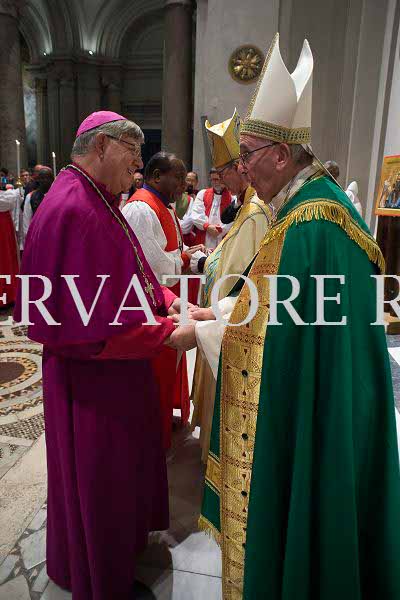 On October 5, our bishop brother Bill Fey, OFM Cap., Bishop in the Diocese of Kimbe, Papua New Guinea, was in Rome to  participate in a special gathering of Anglican and Catholic bishops to mark the 50th anniversary of the Catholic/Anglican dialogue.  Our confrere sent along a photo (from L'Osservatore Romano?) as he shook hands with Pope Francis only 3 days before the nomination of the new cardinals for the November consistory which included Archbishop John Ribat of the Archdiocese Port Moresby, PNG, where our friars live and work and where Bishop Bill taught philosophy and theology before his appointment as Bishop in Kimbe.
       Bishop Bill wrote: "I said I'm from Papua New Guinea and he said 'so far away!'  You can see the surprised look on his face.  He must have already known he would be naming a cardinal for PNG."
       From this page on the web, we learned that Pope Francis and the Archbishop of Canterbury Justin Welby commissioned 19 pairs of Anglican and Roman Catholic bishops from across the world to take part in united mission in their local areas. The bishops, selected by the International Anglican-Roman Catholic Commission for Unity and Mission (IARCCUM) were "sent out" from the same church were Pope Gregory sent Saint Augustine to evangelize the English in the sixth Century.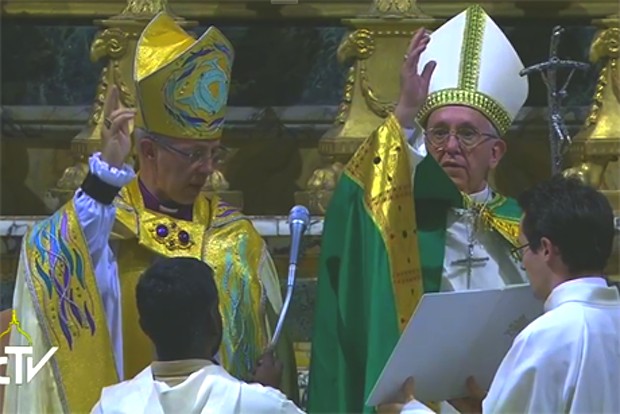 "Fourteen centuries ago Pope Gregory sent the servant of God, Augustine, first Archbishop of Canterbury, and his companions, from this holy place, to preach the joyful message of the Word of God," Pope Francis told the bishops. "Today we send you, dear brothers, servants of God, with this same joyful message of his everlasting kingdom."
       The commissioning and sending out came in the setting of a Vespers service, led jointly by Pope Francis and Archbishop Welby, at the Church of Saint Gregory on the Caelian Hill in Rome. Among those sent out, aside from Bill, was Auxiliary Bishop of Baltimore, Dennis Madden.