Friars descended on Rockville, MD, in Montgomery County on Thursday evening, January 8. Brs. Saúl Soriano, OFM Cap., and Tommy Piolata, OFM Cap., work with the young adult ministry called 270Catholic, no doubt in part referring to Interstate-270 that runs through the county.
     The mission of Theology on Tap is to provide young adults an opportunity to explore issues and topics that relate to faith and life in a casual, fun, low-pressure environment. Speakers from a number of churches, universities, and institutions in the DC-area share their thoughts and experiences on a variety of topics to get the conversations started each month -- all the while enjoying a good beer and a burger (although other foods and drinks are also available)!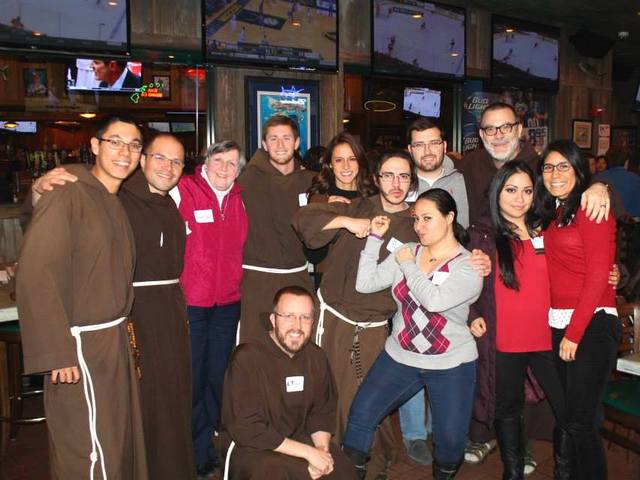 Capuchins on hand ((from left) Brs. Saúl Soriano & Carlos García,
Province Affiliate Martha Novelly, Brs. Ross Henley & Tommy Piolata.
Fr. Paul is upper right, and Br. Brian Stacy is kneeling (of course).
Name updates for the others are welcome!
       270Catholic sponsored this "Theology on Tap" session, and our brother Paul Dressler, director of post-novitiate formation in DC, was once again the featured presenter. His talk was entitled Follow the Right STARS: Five Spiritual Resolutions for 2015.
       Fr Paul's Right STARS to follow this new year:
1. Sit still: this is so vitally important to the beginning of a spiritual life. Sit still and know that I am God (Psalm 46). Start with at least 5 minutes a day!
2. Thanks: thanks is a way of changing your attitude. Thanksgiving is a rebellion against darkness.
3. Accept: accept God's love for you. This is at the center of the spiritual life. Do I allow God to love me?
4. Read: God's word is power. The word challenges us to live in God's will.
5. Serve: serve others. Christian life is never complete without this word.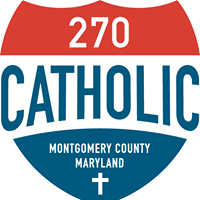 About 75 young adults attended the event. 
       On the group's 270Catholic's Facebook page is this raison d'être: "270Catholic connects Young Adults (20s/30s) with Jesus Christ & the Church in the 270 Highway area of Montgomery County, MD (Bethesda, Rockville, Gaithersburg)."
---
Have you heard Fr. Paul's previous podcast from October?
Happy are the Poor: Simplicity and Spiritual Freedom
Length: 36:47 | mp3 format | 25.27 MB