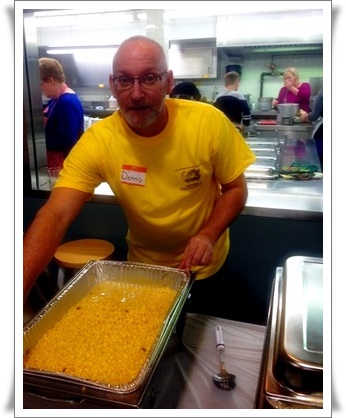 Our brother Dennis Klemash, OFM Cap. (left), is the Guardian of our Hermitage friary of St. Francis in the South Hills of Pittsburgh, PA. Along with Brs. Walt Robb, OFM Cap., and Mark Carter, OFM Cap., he is the source and animator of our 'prayer power' and preserves Francis of Assisi's desire that the brothers take time for solitude. As examples and as supporters for the Province they have a precious opportunity to deepen their lives with the crucified and risen Lord and to unite their hearts in compassion for his people.
Thanksgiving week was a busy one for the hermitage friars. A core value of the life at the hermitage is community service. On a regular basis, they volunteer at the Pittsburgh Community Food Bank and pack boxes that are sent to local food pantries for distribution to needy persons and families.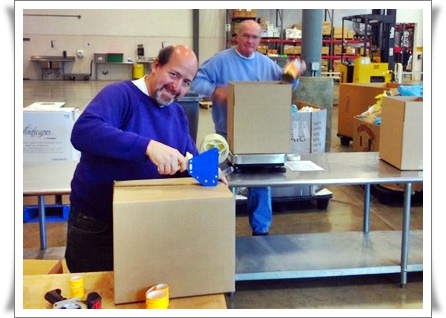 Brs. Mark and Walt (right) spent a six hour shift on Tuesday before Thanksgiving to make sure the donations from food drives got on the way to those who depend on the donated food. Annually two Pittsburgh Christian churches, Mt. Lebanon United Methodist and Bethany Evangelical Lutheran, provide free Thanksgiving Dinners to shut ins and the needy of the region.
All three of the brothers spent several hours on the day before Thanksgiving setting up the dining room and cutting turkeys for the meal that would be served the following day. Then, on Thanksgiving Day itself, they delivered hot holiday meals to the homes of shut-ins - bringing food, flowers, a smile and prayer.
At the 'ground-zero' kitchen, they kept the kitchen going and the serving line filled. At the end of the eight hour day of service, the friars sat and enjoyed their own Thanksgiving Dinner along with the volunteers and patrons at Bethany Lutheran Church.
Along with our father St. Francis, they could echo: 'In all ways, give thanks!'